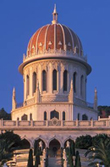 "Man's merit lieth in service and virtue and not in the pageantry of wealth and riches."
-Bahá'u'lláh


"Be anxiously concerned with the needs of the age ye live in, and center your deliberations on its exigencies and requirements."
-Bahá'u'lláh






---
HOME | WHAT IS THE BAHA'I FAITH? | LOCAL ACTIVITIES
BAHA'I PRAYERS | LINKS | CONTACT US
---



Welcome! We are Bahá'ís residing in Northern Delaware and Cecil County Maryland. This website shares introductory information about the Bahá'í Faith and local activities.

The Bahá'í Faith is the second most widespread of the world's religions with over 5,000,000 believers in 232 countries and territories. Bahá'u'lláh, the Prophet founder of the Faith, wrote volumes of scriptures for the guidance of mankind in this day and age. The underlying theme of Bahá'u'lláh's message can be summarized as unity - the oneness of God, oneness of mankind, and the oneness of religion.

Recognized as an advocate for spiritual solutions on issues such as racial prejudice, gender equality, and religious intolerance, the Bahá'í Faith has had an active presence in the religious and social life of America since the late 1800's more...

Our Bahá'í community offers numerous activities including programs for children and youth, devotional gatherings, open meetings where people can come and investigate the teachings of Bahá'u'lláh and more! We welcome you to explore the Bahá'í Faith through this website.

To request information about the Bahá'í Faith and local community events, click here.
BAHÁ'Í NEWS



TIME magazine ranks detention of Bahá'ís leaders among top 10 religious stories of 2009
*Read article*





World's major religions present action plans on environment
*Read article*
---
UPCOMING LOCAL EVENTS
VIEW ALL EVENTS